Helix
. The plot sounded interesting (viral outbreak at a research station in the arctic that deals with genetic weirdness), and the idea of a near-future thriller with elements of The Thing, and Contagion sounded like fun.
We made it ten minutes in. Some of it was the bad writing (seriously awful infodumping that sounded nothing like people do), some of it was the idiot plotting (Someone at a research base is infected, so the CDC sends up their brother, _and_ the brother's ex-wife. Stupid enough - but then you discover that the reason that they divorced is that she had an affair with his brother. Yup, the one who is now infected.), some of it was the basic lack of understanding of any science, what the arctic is like (you try building a research station with a basement in the arctic circle), or anything else that might have helped with suspension of disbelief.
All of which would be fine, in a show that wasn't taking itself seriously. Give me a _silly_ show that makes no sense, but is endlessly fun, and I'm right there. But don't throw a bunch of badly written nonsense at me and ask me to take it seriously.
So we gave up after ten minutes and started on True Detective instead. Which I'd heard great things about, all of which turned out to be true. It's got flaws, but the dialogue is fantastic, the acting is amazing, the long sweeping shots of the scenery are gorgeously cinematic, and I'm unable to take my eyes off of it. One episode to go, and we're seriously tempted to wake up early on Monday to watch the finale before the internet spoils it for us.
Other good TV: Rick and Morty. Animation, you know, not for kids. Imagine that Doc and Marty from Back to The Future had many other adventures, all of them unpleasant, but hilarious. Morty is a 14-year-old kid, Rick is his genius grandfather who has clearly Seen Too Much, and now copes by drinking too much while building Things That Should Not Be. The pilot was a bit wobbly, but the show hits its stride with episode two and then just keeps getting better. It regularly riffs off of popular sci-fi, and does a really good job of it (crossing Inception with Nightmare on Elm Street was a genius idea). Smartly written and foul-mouthed, it keeps the characters just likeable enough to keep watching, and just dislikeable enough to have you laugh at the awful things that happen to them.
---
Original post on Dreamwidth
- there are
comments there.
A couple of weeks ago Julie and I sat down to watch the first episode of
http://feedproxy.google.com/~r/SusieBrightsJournal/~3/8RMZvTMgiis/lung-cancer-noir-ariel-gores-masterpiece.html
I have this recurring nightmare that my mother is alive. She never died. I've made a terrible mistake. I have to call my editor. We can't publish the book. I don't know how I could have made such a wild mistake. I mean, she looked dead. I signed the papers....
http://whatever.scalzi.com/2014/03/06/because-i-like-helping/
http://whatever.scalzi.com/?p=24022
Once upon a time, about a half hour ago, this guy said to me on Twitter:
@scalzi @exjon: Remind me to never buy 1 of your books.

— Shawn Smith (@Zaklog) March 7, 2014
Well, okay!
.@Zaklog NEVER EVER EVER EVER EVER EVER EVER EVER BUY ONE OF MY BOOKS EVER EVER EVER. #Never #Ever PS: EVER EVER EVER EVER @exjon—
John Scalzi (@scalzi) March 07, 2014
.@Zaklog PPS: EVER @exjon—
John Scalzi (@scalzi) March 07, 2014
.@Zaklog Just checking in to remind you never to buy any of my books. As it's been a while since I've reminded you. You're welcome. @exjon—
John Scalzi (@scalzi) March 07, 2014
Dear @Zaklog: Have you remembered lately never to buy any of my books? Because if you've forgotten, this is a reminder! @exjon—
John Scalzi (@scalzi) March 07, 2014
Hey! @zaklog! Here's a pic of a book you DEFINITELY SHOULD NOT BUY. And, also, a cat. The cat is not for sale. http://t.co/PyJcRrGM0z—
John Scalzi (@scalzi) March 07, 2014
Also, @zaklog, not only should you not buy this book, you should also not watch the tv show of it when it comes out. http://t.co/iSzDKzV3m6—
John Scalzi (@scalzi) March 07, 2014
I hope those tweets have been helpful, @zaklog, in your quest to NEVER EVER EVER buy my books. Good luck! I'm rooting for you! Bye!—
John Scalzi (@scalzi) March 07, 2014
I love being helpful!
It's that time. I've started the final revision pass on Karen Memory. So far, I'm working through the bits that only need tweaks, because the earlier chapters have already had several editing passes, after all. (One of the many ways all that Useful Writing Advice doesn't work for me--several times over the course of any given book, I have to go back and restructure the early bits and add things and move stuff around, or the book doesn't go forward. I can't always just make notes and keep going.)

Soon, my pretties. Soon. Soon.

But for the meantime, we're in Earbrass Country. ("We can't stop here!")

I spent the last four days shoveling out from under a bucket of post-novel ennui after finishing a short story tentatively called "No Place to Dream, but a Place to Die." There were a lot of movies and a certain number of books and even more Bejeweled, I'm afraid.

In other news, it's coming up on a month to publication for Steles of the Sky, and I am psyched! Tor.com has the first chunk up as an excerpt if you just can't wait to get started.

Whee!
Current Mood:

content

Current Music:

Talking Heads - Life During Wartime (Live)
Feministing
says Hollywood should take advice from Octavia Butler.
---
Original post on Dreamwidth
- there are
comments there.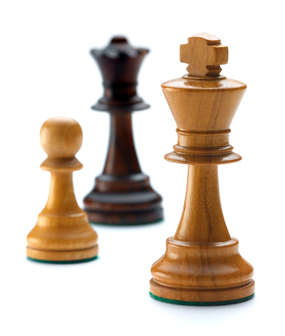 Yesterday I posted about two unusual writing places: the elliptical trainer and the shower. When I started writing seriously, I was an avid cyclist. I used to go out for 15-mile rides each day, 30- or 45-miles on the weekends, and I used to do some of my best troubleshooting on those rides.
Nowadays, I write until 7:00 am, then I do 30 minutes on the elliptical and then I get in the shower. This week I've been working on a new short story. Each morning I'd write about 800-1000 words and then finish up at a point where I wasn't really sure what was going to happen next. During my exercise session, I'd let my mind wander and invariably I came up with the next scene. Before hitting the shower, I'd go back to my PC and enter 50-150 words of notes to cue me for the next morning. I should finish the first draft tomorrow morning. It's been fun, and it's fairly typical of how I work when I'm writing fiction.
It was good to see Ron Glass (of Barney Miller and Firefly) on CSI last night. Of course, when you see a familiar face like that, you can't help but think he's the perp, but they fooled me this time, despite The Who's admonishment. Special kudos for the use of Yes's "I've Seen All Good People," which has the subject line as part of its lyrics.
On the other hand, I thought Criminal Minds was a tad obvious in the identity of the perp. Sure, they tried hard to make it seem like the putative leader of the group was "talking to Jacob," (as in Lost) but it came as no surprise that he wasn't.
Poor old Raylan. He can't win for losing. He has this nice getaway planned to go visit his kid in Florida with his girlfriend and he gets called away by Wendy Crowe because her "nephew" has been kidnapped by his "uncle." Raylan wants to give her the old "You've mistaken me for someone who cares" line but Allison convinces him he needs to get out there and find the kid. Which he does, with surprisingly little trouble and no fisticuffs or gunplay. We never did find out how Michael got there first, but in the end it didn't matter much. Raylan tried to bond with Kendell, telling him about how he'd had trouble with his kin growing up, too, but didn't gain much traction, even after he gave away his ill-gotten radio gains. Then, having fallen for Wendy's promise of evidence against her kin, he ends up with bupkis. Maybe now that he's a free man again, he can explore Wendy's apparent interest in him.
Boyd's still in Mexico, trying to get a truck full of drugs and dead bodies into Texas. I told myself, after the cops drove off with the truck, that I bet he had moved the drugs to the car that was requested by the contingent that had to sit in the back of the truck with the bodies. Dewey wisely asked for A/C. And, lo and behold, I was right. Remains to be seen, though, what the next play is, as it appears the Crowes aren't on the up and up. Surprisingly. Are you sure  you want to be considered my family, Boyd asks, considering I just executed the last blood relative that I have.
If he messes around in Mexico too long, though, Ava might be in big trouble when it comes time for the next expected heroin shipment.
Originally published at Bev Vincent. You can comment here or there.
http://whatever.scalzi.com/2014/03/06/the-new-nook-glowlight-with-cat-for-scale/
http://whatever.scalzi.com/?p=24019
Yes, it is a tiny little thing, isn't it. Although in point of fact it has the same screen real estate as my first-gen Nook; what it's missing is the bottom third, which included the little LCD screen. It's also (and not surprisingly) substantially thinner and lighter the first-gen Nook, which was not especially hefty to begin with. It's something like six ounces, which means it probably weighs less than the paperback version of The Human Division. That's a little weird.
I've had the thing for less than a day so I don't want to post an in-depth review, but I will say that so far it's been pretty lovely. It does what it's supposed to (i.e., allow you to read electronic books without much eyestrain), the screen is crisp and clear, and the built-in light works as advertised. The thing doesn't have as many features as the first-gen Nook; you can't cruise the Web, for example. But inasmuch as cruising the Web on an e-ink reader was a distinctly subpar experience that I did exactly once, I cant say I will miss it much. For reading books, the new Nook is exactly as advertised.
I have spent years now in fancy prison with very liberal privileges (though I rarely avail myself of them).
I am fairly certain that this in the coldest March morning I have ever known, out of forty-nine years and nine months worth of March mornings (unless that was actually yesterday morning). My office windows are frosted over. The lying sun is out and bright in a wide carnivorous sky. Currently, it's 24˚F out there, but feels like 17˚F. Last night's low was 18˚F, and tonight's low will be 14˚F. Supposedly, some sort of miserly warming is about to begin. We shall see. I sit here in stale Hell: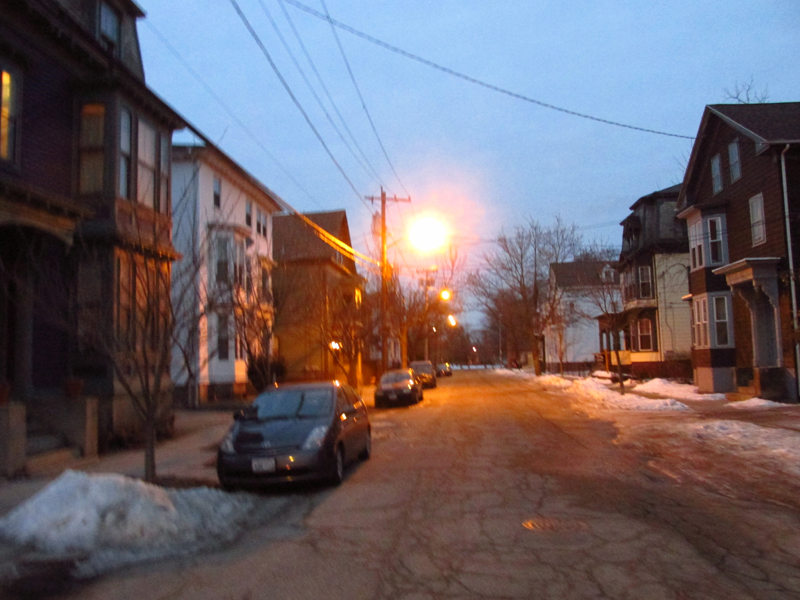 Wednesday evening, 6:56 p.m.

Yesterday, I began the cyborg story. Just barely. Currently, it wears the Daxian title "The Living and Their Stillborn." I only wrote 357 words, probably because of the very, very potent weed I was smoking to take the edge off my anxiety. Anyway, here's yesterday's work, in full:
I usually bring Jessamine down to Little Beirut, to the Backwash Anticline stringers of dyke subsequents and neonical bioluddite lounges. The resident cops' cady is an ex-friend of mine, and therefore not
as
prone to tagging a slŭf all night, so Jessamine and I can
mainly
be out with-out suffering the attention of the froggers. Like most left behinds, she's a right hypochondriac, but wouldn't I be, too? Fuck yeah, I would. If I'd been born locked up with an inviolable biochemistry, I'd be five-fold paranoid as Jessamine. I seriously doubt I'd be trusting my continued persistence to a Made-in-Tianjin rebreather, gloves, and a handful of skittles. I'd be one of the bubble babies, for sure. So, it makes me proud of her, whenever Jessamine agrees to leave her tiny sharefare apartment in Red Hook and accompany me anywhere at all.

We sit together in the cat-leather booth all the way at the back of Canaan, so we don't have to watch the daily-events giallo they flash over the bar. Jessamine is talking about her new painting when a certain lady we both know spots us and waves and makes her way through the press to our booth, her own reject in tow.

Now, that term –
reject
– it might not be deemed any longer corrección política in some more refined circles. But those are circles to which neither myself nor Jessamine belong. Also, I'd hasten to add: circles whose constituents are as gun shy of the Little B saloons and brothels as the bubble babies are of opening a window on a smoggy August afternoon. Jessamine, she names herself reject. And the sole time I objected, and even went so far as to raise the hoary specter of self-hatred, autoloathe, she told me to wear my heart on the inside, where it belongs. She even said please.

Anyway, the certain lady in question is known usually as the Natrolite Viper, and she's a stone fan of Jessamine's work. She seems to buy every other canvas, at least.
Otherwise, yesterday we finished Season Three of
Games of Thrones
. Superb. Also,
Naked Lunch
, downloading for this weekend's
Wildstar
beta, Vicodin, leftover chicken and a very nice avocado, "A Review of 'Morphology and Evolution of Turtles: Proceedings of the Gaffney Turtle Symposium (2009) in Honor of Eugene S. Gaffney,'" "New specimens of Protocetidae (Mammalia, Cetacea) from New Jersey and South Carolina," "A new record of ringed seal (
Pusa hispida
) from the late Pleistocene Champlain Sea and comments on its age and paleoenvironment," Yacht Club soda, and electronic mousetraps. Oh, and my comp copy of S.T. Joshi's
Black Wings III: New Tales of Lovecraftian Horror
came, and I read a little from it. Beautiful cover. The book includes my story "One Tree Hill (The World As Cataclysm)."
Now, it's that time, so it is.
TTFN,
Aunt Beast
Except from "The Living and Their Stillborn" Copyright © 2014 by Caitlín R. Kiernan, All Rights Reserved.
I'd like my walk-on part back now, please.
Current Location:

Kasei Valles

Current Mood:

cold

Current Music:

Rasputina, "Fire and Ice"