told you i was poorly. back asap.
really not so big of a deal.

that people go, in pain, and cannot stay.
Last month, last week, last hour of last day.
He took my hand. And my voice might have cracked

but his did not. A sort of madcap grace
he had. We used to think it was the drink.
He'd laugh, be serious, dance on the brink
of parapets. No mask behind his face.

He wrote, once, of a gentle alien spy
observing, liking. Someday going back.
That wasn't him. He has no chance to pack
some souvenirs. He won't leave, he will die.

Cheeks slightly gaunt, his shy sardonic smile
haunts, like his rich sad sweet roccoco style.
A poet cannot lie. Must tell the fact
Thompson sure has had a unique career path in terms of going back and forth between politics and acting . . . although one could argue that the two require some of same skills! In any case, I didn't realize he was one of the people questioning about Watergate. I was a bit surprised to see footage of him at the hearings.
I used to love NBC's The Office. I watched it religiously for many years. For a long time, I considered it the best sitcom on TV. After three or four seasons, I became convinced the American version had actually surpassed the British sitcom on which it was based. Dwight and Creed in particular were amazing characters, and of course, like everyone, I was caught up in the Jim and Pam romance. (Though, for a while, I was pretty sure Jim would be better off with Karen Filipelli, the Utica branch co-worker played by the outstanding Rashida Jones, who treated Jim a lot better than Pam did at the time because she actually liked him and wasn't dithering about some completely unworthy fiancé.)
Strangely enough, I never considered Steve Carell's Michael Scott my favorite character, but when Carell left the show, wisely sensing it was running out of steam after seven years, I quickly lost interest. I think I made it through roughly half the eighth season before opting out. Robert California, the replacement Regional Manager, was a disaster, despite being played by the superb James Spader. His character stuck out like a sore thumb. He belonged on a completely different show. Every plotline that focused on him was tedious. On top of that, I just couldn't get into all the Andy and Erin romantic angst. They were no Jim and Pam. Not even close.
So I stayed away from the show for a year and a half, but I decided to tune in to this week's series finale, and I'm glad I did. I laughed a lot, and even got a little teary-eyed, just like I used to during the show's heyday. (Though Ryan abandoning his baby was pretty questionable as far as funniness goes. I mean, come on, you guys.) Still, it was a great sendoff to a once-great sitcom. So long, The Office, and thanks for all the great memories. I forgive you for Robert California.
Originally published at Nicholas Kaufmann. You can comment here or there.
I sent my guitar to them because my guitar had considerable fret buzz and I didn't know how to fix it myself. I ordered this guitar in part because it supposedly had Gibson 57 pick ups installed into this Epiphone version of the Les Paul. He checked and told me that it did *not* have those pick ups, but rather stock Epiphone pick ups. Nice, huh? The guy I ordered it from seemed like a nice person. I'd like to think that somebody ripped him off rather than him knowingly doing it to me.
I wasn't expecting anything. It clearly looked like an eBay sort of thing, and I racked my brains trying to remember if I may have bid on something I forgot about.
Then I opened the box and there was this:
I still couldn't figure out who sent it. Karen asked if there was a note. I said, "no, just the name of the...
OH."

calicomask
, I adore you so.
So, yesterday, I got to my desk and there was a small box addressed to me. ME.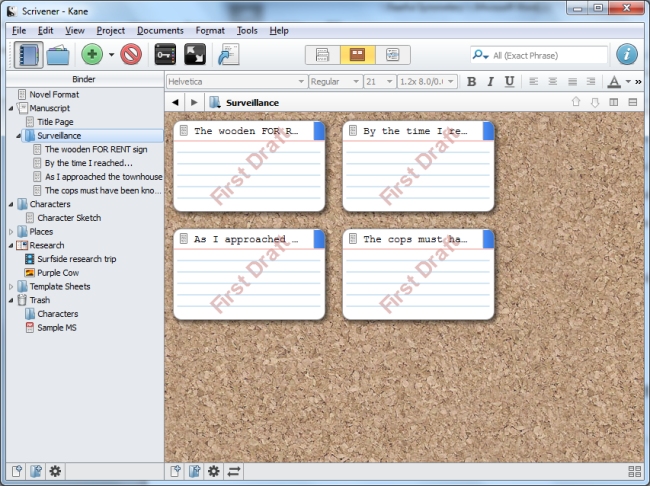 My new Storytellers Unplugged essay was posted today. It's called Bartleby and Me and it talks about my early forays into the world of the word processing and workspace management program Scrivener. Alas, I haven't had as much time as I'd like to work on the novel, but I will—in June.
One of the things that I volunteered to do recently has finally been revealed on the product page, so I can now disclose that wrote the Afterword for PS Publishing's 30th Anniversary Edition of Pet Sematary. The Foreword is by Ramsey Campbell. I'm thrilled to be part of it.
Hope to get to see the new Star Trek film this weekend. Have been scrupulously avoiding spoilers. It was fun to see some of the cast, along with Damon Lindelof, talking to the ISS team recently.
The season finale of Elementary was very good. When I saw the preview last week, I thought that it made a certain kind of sense for the season to end with Sherlock having a relapse, but the writers had even more in store for us than that. There was his reunion with Irene Adler and all of that backstory, plus the big reveal about the true identity of Moriarty and the ensuing showdowns. Watson proved her mettle yet again and was rewarded richly in the final scenes. I've said this before, but I'll say it again: the early previews for this series left me rolling my eyes, but it has proved to be a rewarding show.
I've never been a big fan of Black Sabbath or Ozzy Osbourne's music in general, though I have grown to appreciate the lengths to which he's gone to create a somewhat comedic persona of late. So seeing Sabbath perform on the season finale of CSI was of little interest, but there was a funny exchange shortly thereafter. A reporter is interviewing Ozzy in the lounge. After they wrap it up, the reporter says, "You were my first interview. The Ultimate Centre, 1986." Ozzy looks pensive and says, "I don't remember." The reporter asks, "The concert or me?" Ozzy grins: "I don't remember 1986."
Powerful cliffhanger and tease for NCIS. It's always fun to see Mike Franks, even if he's long dead, and bringing back the JAG guy was a good touch, since that was the show from which NCIS was spun off. Having Gibbs sighting Tobias with his sniper rifle was a big WTF moment. Grey's Anatomy managed to have a turbulent finale, too, with some relationships hopelessly broken, some new ones being forged, a birth and what looks like seriously bad news for one of the originals. Always happy to see good things happen to Alex. If there were a prize for the biggest rehabilitation of a character, it would go to him. I figured out pretty quickly what was going on in Criminal Minds this week. That was one twisted dude. Good to see Eames back on Law & Order: SVU. Criminal Intent was always my favorite version of that franchise. I rarely pass up a chance to watch it in reruns.
Originally published at Bev Vincent. You can comment here or there.